Our product is essentially defined by our performance. We judge our success by return on investment (ROI) and aim to achieve at least 10% ROI in the medium to long term across all of our recommendations. We are realistic, and ask that you are too. We don't expect to make a profit in every tournament; in fact the nature of golf betting is that we may well have more losing weeks than winning ones.
One of our four key commitments to our subscribers is transparency. Plenty of tipsters will highlight their successes but provide little, if any, meaningful data to track performance in the long run. Form Golfer is different. Every week, win or lose, we will publish a short review summarising the total stakes, profit/loss and ROI from following all of our recommendations in the last tournament.
We will also provide on this page details of cumulative ROI across the different types of bet we recommend (outright, match up and other), updated every week, in order that you can make informed judgements about which of our recommendations to follow.
We know that transparency is important to you. So it's important to us.
Our performance during our final testing phase (11 tournaments – Nov 2021 to Mar 2022)
| Market | Total staked | Total return | ROI |
| --- | --- | --- | --- |
| Outright | 229 | 464 | +102% |
| Match up | 469 | 445 | -5% |
| Other | 177 | 189 | +7% |
| Total | 875 | 1098 | +26% |
The chart below shows the balance of a notional account over time, starting with 1000 points and following all Form Golfer recommendations.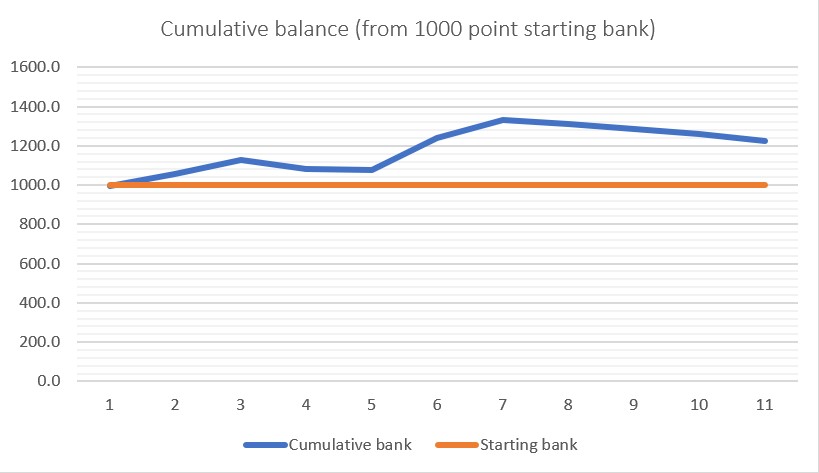 Our Data DRIVES Value
Form Golfer's mission is to make sense of the data to help its members make more informed decisions, whether for fantasy games or financial advantage. We have built a data model to do the analysis so you don't have to. Importantly, we are golf fans as well as data experts, so we don't just rely on algorithms, but cross-check this against our own insight and experience before we make any recommendations to you.